From New York, Jazz fusion with Corina Bartra
You blend quite a few genres of music; is there one of these where you especially feel at home? One which is closest to your heart?
I love various genres and feel at home with several of them. I love world music, jazz, pop and new age. All these genres are close to my heart and I enjoy delving into all of them.
Do you find that your music is appreciated differently by audiences in Peru from those in say, New York or Europe?
Yes. I experienced my best audiences in Europe. I was deeply touched and felt so grateful performing in Hamburg since some of the audience went during the intermission to buy flowers for me and the musicians who accompanied me that evening.
Why did you choose New York as your home?
I came to New York to learn from the jazz luminaries. My first recording was with a wonderful pianist, Kirk Lightest who played for Sarah Vaughan, bassist Santi Debriano, drummer Clifford Barbaro and Pucho Salas on the Peruvian cajon. Clifford Barbaro for example was the drummer of Joe Hendricks, the father of vocals (scatting with the voice) and he also played for Betty Carter. They were all amazing and top notch musicians living in New York. I learned and expanded my singing, arranging and composing working with the greats and also going to magnificent schools such as Mannes College of Music, Long Island University in Brooklyn campus and Queens College where I obtained my masters degree in vocal performance with jazz studies.
Are others in your family musicians too?
Yes, my mother was a beautiful classical and Brazilian music pianist. She was also a great dancer; however my father didn't approve of her following her calling and she stopped. Obviously this harmed her. She became a manic depressive. This was a lesson for me to escape such a destiny.
I see that you have studied North Indian classical music? Do you incorporate this into your Latin / Jazz / Afro-Peruvian fusions?
I incorporate this genre into another music project called "Corina Bartra & her Prisma Project." North Indian classical music is not present in my Latin / Jazz/ Afro-Peruvian fusions.
At what stage of your life did you decide to make music your career?
Since I was in high school. I used to imitate great singers such as Sarah Vaughan and Janis Joplin among others.
Do you teach music as well as compose, arrange and of course perform?
Yes, I have taught music a lot. It is tough and at the same time rewarding in some cases. Sometimes you can get burned out teaching music so I don't do it much now.
Is making a recording for a CD as enjoyable for you as live performance?
Yes. I love recording and polishing the music and performing in an intimate setting. It is a joy seeing, hearing, and sharing a tangible product. What I find awesome when performing is the interaction and connection with the performers and the audience. The aliveness of this experience is quite fascinating and nurturing.
What is your spiritual background? Does it affect your music?
I see and feel myself more as an intra-faith being. Life and Spirit is shared by all spiritual traditions and also in nature.
Do you have a particular musical ambition still to realise?
I just did an exciting recording where I wasn't singing; it is all instrumental. One of my dreams was doing just that. Listening to my arrangements and compositions in an orchestral setting was a thrill. I want to continue challenging myself and to venture into uncharted horizons. I also want to do some traveling. Lately, I haven't spent all the time in New York but I have been in Peru 4 months a year and also spent a month in Europe. I would like to play more percussion and write a book. Why not?
LIMA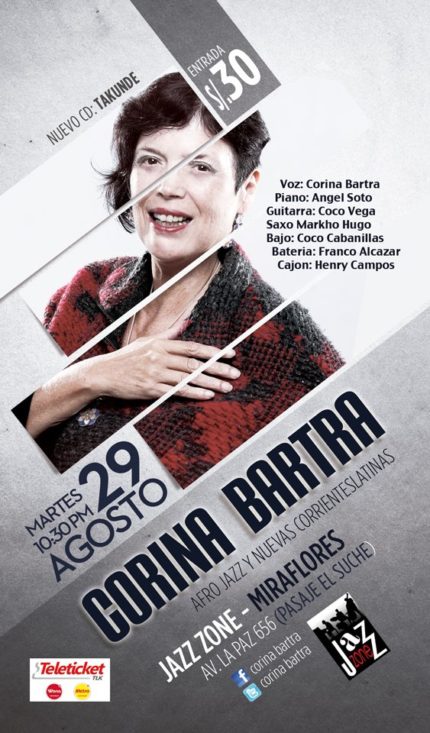 BERLIN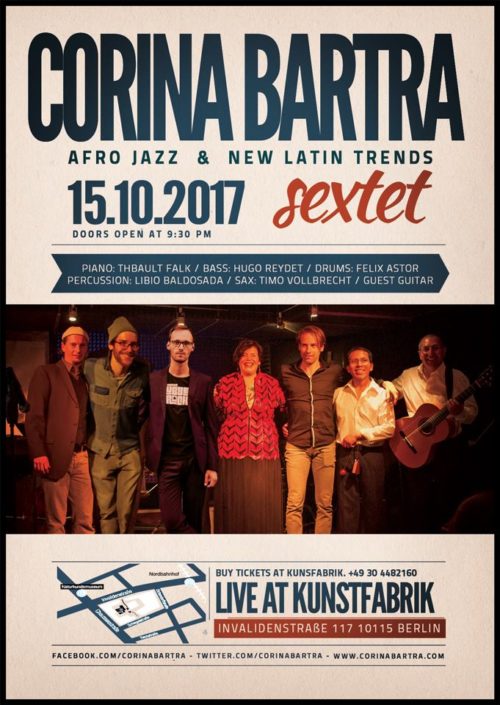 FΩRMIdea New York, 7th July 2016.